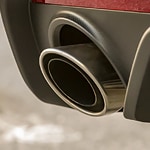 The Ford Mustang remains one of America's most iconic and popular sports cars. Here at Jim Schmidt Ford Inc., we think that has something to do with the performance of the Mustang. It just seems to get better year after year.
The 2020 Ford Mustang is equipped with a performance exhaust that allows you to control the volume. You can choose different modes such as Quiet Start, Sport, Normal, and Track. The Mustang also offers an in-dash screen that provides you with performance data. You can monitor the performance of the car in real-time. The Mustang has always been known for its performance and power. Ford has now enhanced the element of control for a more balanced driving experience.
We want to invite you down to our dealership in Hicksville, OH where you can test drive a new Ford Mustang at your leisure. We have a friendly sales team that will be happy to explain more about the performance of this legendary car.