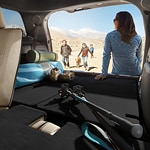 The 2020 Ford Explorer is a vehicle that is an SUV with a sleek look. It is a three-row SUV. It can seat up to seven people. One of the reasons that people choose this vehicle is because it has a variety of performance features. The Ford Explorer has sidewind stabilization. It will be able to counteract the effects of large gusts of wind.
It will be a lot easier for you to drive on the open road, cross a bridge, or overtake a large truck. Available reverse brake assist is another feature. You will get an alert if something is in your path while you are backing up. It will apply the brakes in order to prevent you from hitting something.
The system is able to detect both moving and stationary objects. You can make an appointment to go to our dealership if you are interested in test driving the car.