Jim Schmidt Ford Inc. Supports Hicksville Drivers with Certified Ford Parts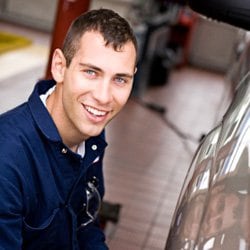 Your Ford vehicle is built to withstand everything, from the rigors of the road to the changing seasons. However, even the toughest vehicles on the road need to have their parts changed on occasion. Not only do parts wear down over time, but your safety and your overall investment can be further enhanced by getting new parts for your Ford vehicle.
Here at our dealership, we are proud to have a wide variety of parts. Whether you need something as simple as a new battery, or you need new brake pads or something more extensive, our team will be here to help.
Why We Use Genuine Ford Parts
At Jim Schmidt Ford Inc., we are proud to have a variety of genuine Ford parts that you can install on your vehicle. We only use genuine Ford parts. That's because genuine Ford parts are designed specifically for your vehicle. That means they will last longer, be more durable, and offer you a better overall investment than aftermarket parts will.
Additionally, our service center can help install these parts, so you can focus on getting back out on the road.
Ready for a Test Drive?
We know how important it is to keep your vehicle in good condition. After all, you use it daily and have invested a lot of money in it. With our team by your side, and our array of Ford parts, you can ensure your Ford model will be ready for the open road.
If you would like to learn more about our selection of Ford parts, or if you have any questions about our Ford models, we invite you to visit us at Jim Schmidt Ford Inc., located in Hicksville, OH. Our team would be proud to help you schedule a test drive with your preferred automotive option.