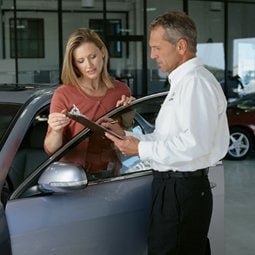 Is your vehicle due for its scheduled maintenance? When you drive around in Hicksville without keeping your vehicle's maintenance up to date, you can end up risking a lot more than you bargained. Preventative maintenance can save you a lot of time and headaches down the line. At Jim Schmidt Ford, we can keep your vehicle performing at its highest level
Preventative Maintenance
Skipping an oil change can cause engine failure and worn tires can cause accidents on the highway in Hicksville. Preventative maintenance can stop those things from happening. You don't want a small problem to turn into a big problem down the line. Schedule your appointment for a day and time that suits you. We'll get you in and out in little to no time.
Quality Vehicle Service in Hicksville
Our professional mechanics know one thing-how to repair your Ford. They understand every aspect of your vehicle, from bumper to bumper. Whether it's a quick oil change or a major repair, put your vehicle in the hands of a trusted mechanic at Jim Schmidt Ford.
Ford Pass™
Make your Ford ownership easier with Ford Pass Rewards™. You can earn points to use towards your complimentary maintenance. And, you'll have 24/7 roadside assistance with the option to schedule your repair or maintenance from your phone conveniently. It's the easiest way to get your vehicle serviced in Hicksville.
Handle Your Servicing Needs with Jim Schmidt Ford
There aren't many better feelings than driving stress-free in Hicksville. Our professional mechanics will ensure your vehicle's safety and maintain its performance with every repair. You can schedule your appointment through your FordPass™ app or visit us in person. Either way, we'll be happy to repair your vehicle and get you back on the road in Hicksville.